Flexibility
{{{#has_qty_breaks}}} {{{qty_break_grid}}} {{{/has_qty_breaks}}}
/
Tax included.
---
Support for healthy joints, bones, hair, skin & nails
A multi-action formula that provides antioxidant and joint support for your cartilage and bones. A warming spice blend that includes turmeric to hug your taste buds and your joints. Nutritionally dense formula from all vegan friendly ingredients.
Perfect nutritional support for nails, skin integrity post dermal therapies and cosmetic procedures, collagen, devitalised skin, poor wound healing, auto immune skin conditions, dermatitis. A great match with everyday skincare products.
MULTI ACTIVE CONCENTRATE – GENTLE EXTRACTION – TESTED FOR TOXIC HEAVY METAL SAFETY – NO SYNTHETICS
Blend 2 level teaspoons (7g) to 200ml of water, smoothies or juice or sprinkle over cereal to increase nutrient intake as part of a balanced and nutritious diet.
We recommend storing our wholefood powders below 25°C unopened and in the refrigerator after opening. Always use a clean, dry spoon.
A comprehensive nutritionally dense organic sprout blend. Containing all organic Amaranth Sprout, Quinoa Sprout, Millet Sprout, Buckwheat Sprout, Chick Pea Sprout, Lentil Sprout, Adzuki Sprout, Alfalfa Sprout, Flax Sprout, Sunflower Sprout, Pumpkin Sprout, Chia Sprout and Sesame Sprout. Good balance of nutrients to support your joints and digestion.
Magnesium- Contributes to normal energy metabolism and necessary for normal nerve and muscle function.
Calcium- Necessary for normal bone structure, nerve and muscle function.
Vitamin C- Naturally sourced from the Acerola Cherry. Contributes to cell protection from free radical damage and normal collagen formation for the normal function of skin.
Organic Turmeric- The traditional Indian herb.
Organic Masala Chai Blend- Cinnamon, Cardamom, Clove, Star Anise, Liquorice, Nutmeg and Black Pepper.
Organic Mushroom Vitamin D2- Vitamin D is necessary for normal bone structure.
AQUAMIN™- Natural sea mineral complex, made from special calcified red algae. Contains bio-active calcium and magnesium as well as 72 other trace minerals.
Organic Pea Protein*, Natural Sea Mineral Complex powder (Aquamin™), Organic Lucuma powder*, Organic Turmeric powder*, Organic Ceylon Cinnamon powder*, Organic Masala Chai blend (Cinnamon, Cardamom, Clove, Star anise, Liquorice, Nutmeg, Black Pepper)*, Organic Sprout blend (Organic Amaranth Sprout, Organic Quinoa Sprout, Organic Millet Sprout, Organic Buckwheat Sprout, Organic Chick Pea Sprout, Organic Lentil Sprout, Organic Adzuki Sprout, Organic Alfalfa Sprout, Organic Flax Sprout, Organic Sunflower Sprout, Organic Pumpkin Sprout, Organic Chia Sprout, Organic Sesame Sprout)*, Organic Chia Seeds*, Natural Vanilla flavour, Organic Acerola powder*, Organic Ginger powder*, Organic Mushroom Vitamin D2 powder*, Organic Stevia extract powder*. *certified organic ingredients
Nutritionally dense formula from all vegan friendly ingredients, developed in conjunction with accredited Nutritionist, Fiona Tuck.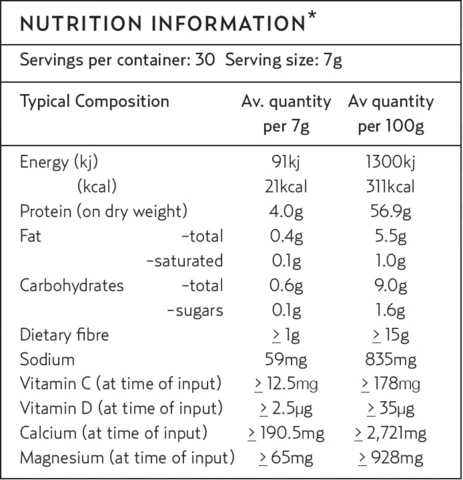 * Calculated manually using FSANZ NPC based on supplier information.