Collagen Boost
{{{#has_qty_breaks}}} {{{qty_break_grid}}} {{{/has_qty_breaks}}}
/
Tax included.
---
Marine collagen from wild caught fish found in the crystal clear waters of the North Atlantic. Bioavailable Peptides. Certified Sustainable Seafood (MSC). Unflavoured.
BIO AVAILABLE – GENTLE EXTRACTION –  TESTED FOR TOXIC HEAVY METAL SAFETY – NO SYNTHETICS
Blend 2 teaspoons (7g) to 200ml of liquid, hot or cold. Can be added in cooking or mixed with Vita-sol Wholefood Powders.

Always use a clean dry spoon and reseal after each use.
Consume within 90 days after opening. Store below 25°C and avoid direct sunlight and heat.
NO GMO, eggs, nuts, gluten, dairy, synthetic vitamins, artificial ingredients,
flavours, colours, preservatives or additives. Certified Sustainable Seafood (MSC). Wild caught, not from farmed fish.
NO MALTODEXTRIN.
100% Hydrolysed Marine Collagen
*Allergens - Contains Fish
Developed in conjunction with accredited Nutritionist, Fiona Tuck.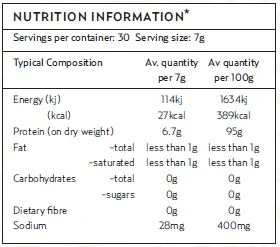 *Calculated manually using FSANZ NPC based on supplier information.